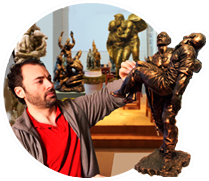 Sculptor Nelson Afian announces the vacancy for the position project manager.
Responsibilities:
Good knowledge of the field of activity and Art market;
Participation in the process of sale and conclusion of contracts (including participation in tenders)
Participation in the search for a project customer, an individual or a corporation.
Ability to compile and maintain documentation (technical and project);
Excellent communication skills.
Organization of events, communication with the press.
Participate in the development of a detailed business plan.
law skills are welcome
This vacancy is a wonderful opportunity to show your creative and organizational skills by participating in the implementation of unique projects of monumental art, organizing trips and exhibitions to various countries of the world, communicating with the exquisite public, being involved in creating the great and beautiful.
Terms of payment upon agreement
Additional information during the interview